200th Anniversary Luncheon
The 200th anniversary of the
Dismal Swamp Canal
and the 65th anniversary of the Atlantic Intracoastal Waterway Luncheon was held today, and it was a great success. The room was packed as you can see below.


Panorama of the Luncheon
The speeches were truly educational, informative and enjoyable. The speakers included Randy J. Forbes, U.S. Congressman, Dalton S. Edge, Mayor of Chesapeake, Melvin Jeralds, Chairman Camden Commissioners, Lloyd Culp, Refuge Manager, George Ramsey, Local Historian and Eric Sheppard, President Slave Descendants Freedom Society. The Keynote speaker was Bland Simpson, Director - Creative Writing Program - UNC-Chapel Hill.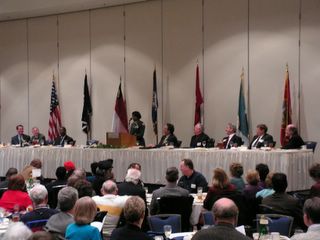 Speaker's Dais
The programs of all speakers had a consistent theme, highlights of the history of the area, its influence on the nations transportation infrastructure and its incredible impact on American will. The Dismal Swamp, bordered on the North by the Tidewater, on the East by the Outer Banks, the South by the Albemarle, and on the West by the Roanoke Chowan rivers, has been at the heart of our nations creation as a nation of freedom. The Dismal Swamp, like our nation, was heavily influenced by George Washington. His involvement also influenced his growth as an individual and contributed to creating his amazing will and determination, characteristics that served our nation well in the revolutionary war. Another local individual who is famous is Moses Grandy, from Camden County. A former slave, his determination and will to be free reflect what has been the driving force of many American's personal history, overcoming adversity. His ultimate success is the American dream.

Mr. Bland Simpson performed some delightful songs about the region to conclude the service.



Bland Simpson
A special award was given to Penny Leary-Smith for her outstanding contributions. Penny is shown below (in red) with Program Chair, Colonel Yvonne Prettyman-Beck, U.S. Army Corps of Engineers, along with Melvin Jeralds, Chairman Camden Commissioners.